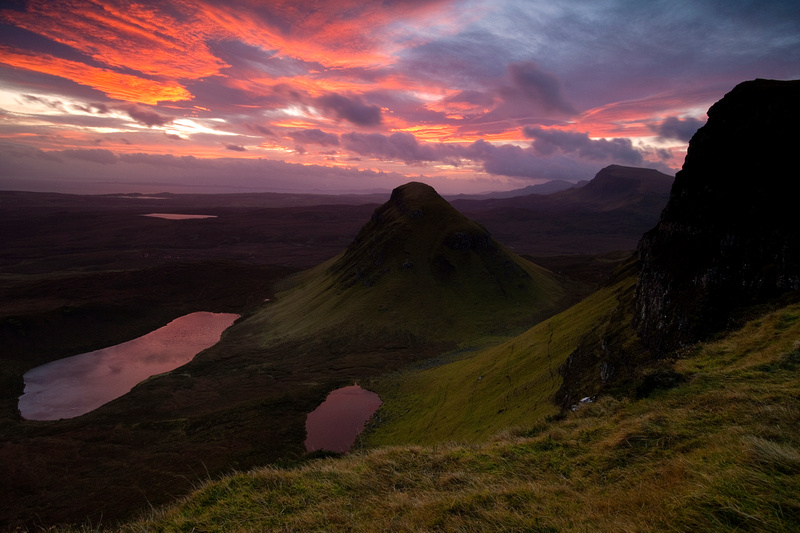 Inspired by some of the landscape photography Thomas Heaton has been recently sharing on his YouTube channel. I thought I'd share some images taken from a landscape photography trip I and a friend James Lindsay took to the Isle of Skye in Scotland, back in January 2009.
We flew to from London to Inverness, hired a car (where I found my love of heated seats) and drove cross country, on to the Isle of Skye. I remember from the moment we got off the plane the light was different to that in Kent. It seemed, warmer and more intense! We rented a beautiful Cottage that was just North of Portree - http://bit.ly/SkyehavenCottage with an amazing glass wall along one side looking over fields with mountains in the background. This cottage made for a luxurious and base for the trip and its central location perfect for travelling around the Island.
Our days were spent heading out and being on location and setup long before sunrise (going in January meant sunrise often wasn't until 7:30am so not too early). This meant we enjoyed the beautiful Scottish early morning light. We'd then return to the car and head for breakfast. The rest of the day was spent photographing the weather, detailed shots of nature and scouting locations for the following days.
On the last day we enjoyed snow in the afternoon, although not really enough to make good images, but just enough to make driving interesting... We almost got stuck in a deep valley waiting for the rain to stop not realising that at the top of the valley the rain was falling as snow and was already a few inches deep.
I learnt a few photography lessons in that week - always clean your sensor before going on a long trip to the middle of nowhere - with most of my images taken at F16 dust was an issue and I spent a ridiculous amount of time cloning the images after every day. In my normal work at the time - motorsport taken at F5.6 dust was never an issue! Next was to replace filters on a regular basis, I used a Cokin Graduated Grey 0.6 soft edged filter to help darken skies in many of my photos, it had a huge scratch right in the centre...! Finally, to be patient (not a talent I have). Often we'd arrive at a location and the weather didn't make for a good shot, but it never took long for it to change!
It was a good, fun week away and James and I both left with some fond memories and some good images. I'd highly recommend a trip to Skye, it really is Scotland at its finest, just make sure you take a camera with you!
Both these images were taken from outside the cottage.